Forest Haven

Level

1-10

Experience Cap

13

Unlocking

Free, included with game

Previous

None (first campaign)

Next

Towne

Quests

19

Dungeons

17

Terrain

Forest/Castle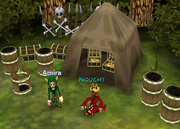 Forest Haven is a campaign designed for level 1-10 characters. Its towne, Traders Haven, is home to several important shops, a forge and a stash. The campaign is set in dense woodland interspersed with castles and underground dungeons. Zombies and Rogue Knight roam the woods and in one of the castles lies the lair of the Skeleton Cult with their master Skeller Krunch.
The towne is Traders Haven
The Forest Haven campaign contains thirteen story dungeons split into three groups.
Group 1:
Group 2:
Group 3:
Two special dungeons are included:
Two player-vs-player dungeons are also included: